Dog stairs allow dogs to move easily and access areas that are high to reach instead of jumping. They have become very popular among dog owners due to their many benefits. They can be used in different places such as beds, cars, and furniture. Dog stairs are ideal for big dogs to enhance their mobility in elevated places. They are essential as they prevent the dogs from falling, eliminates injuries and you do not need to lift your dog off from one place to another. The market today has a variety of dog stairs. When choosing, there are certain characteristics to look for. They include safety measures, size, portability, and storage. If you have not had dog stairs before, it can be challenging when choosing the most suitable one. To help you out, read on to find out the best dog stairs for big dogs.
List of the Best Dog Stairs For Big Dogs of 2023:
10. CertiPUR-US Certified Foam Pet Steps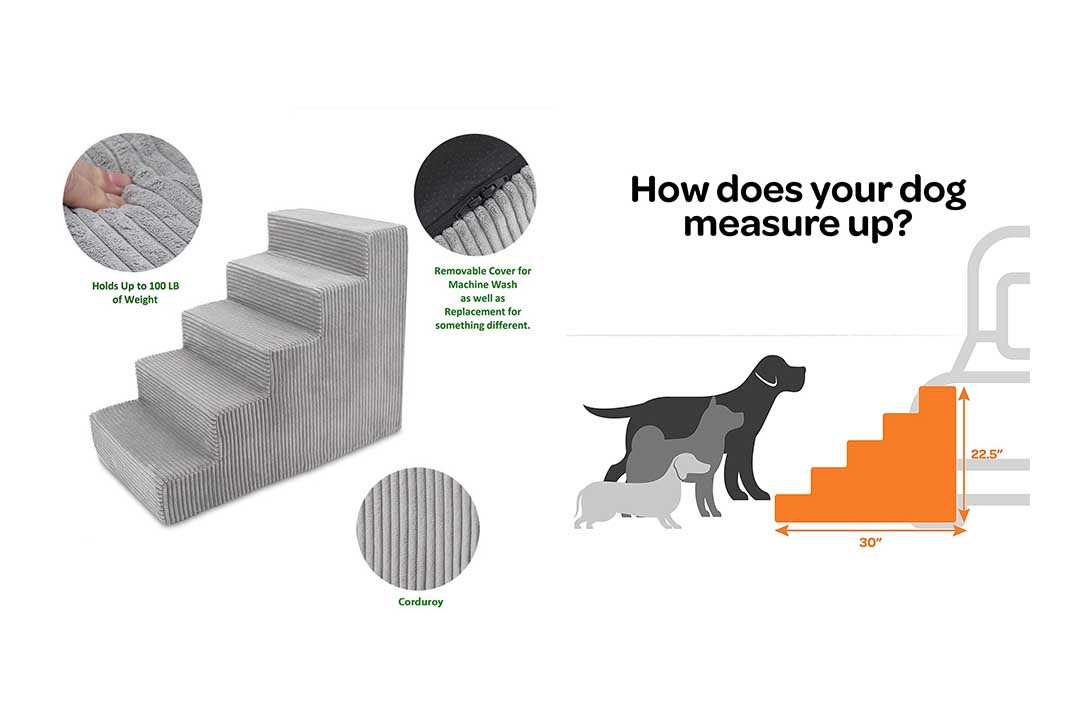 The dog stairs are suitable for big dogs as they have anti-slip bottoms. The width of the dog stairs is 15 by 16 inches which is ideal for the dog while climbing up and down the stairs. It comes with a removable fabric which you can remove conveniently when you want to wash. The dog stairs are certified to make sure there are no harmful chemicals or substances that could cause harm to the dog.
9. Zinus Step Comfort Pet Stairs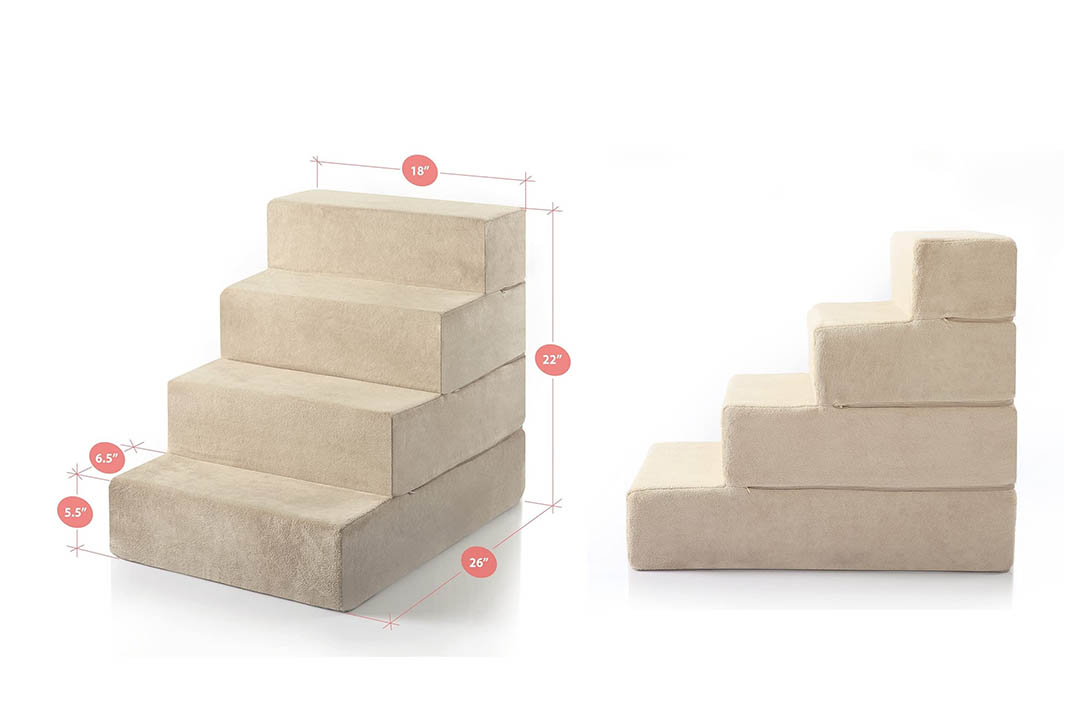 It comes with a washable and removable cover. The dog stairs are easy to assemble down wherever you want to put it. The dimensions of this dog stairs are 26 by 18 by 22 inches which makes it suitable for big dogs. The foam is made of high-density materials for comfort purposes.
8. Arf Pets Wood Dog Stairs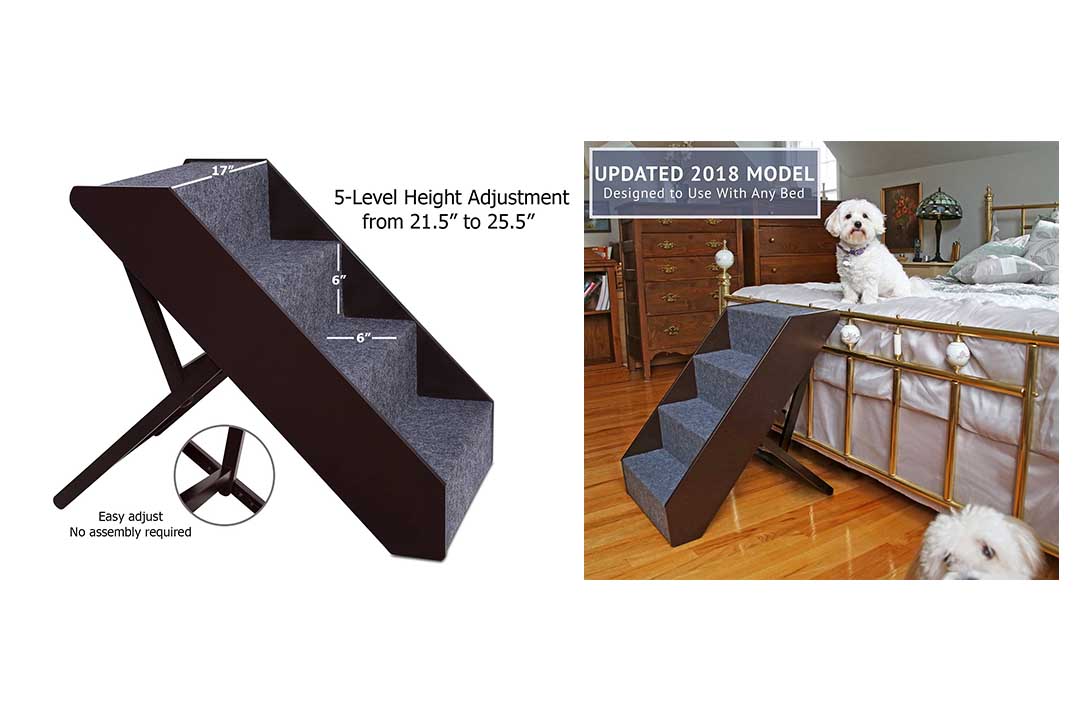 The dog stairs have four levels. It comes with adjustable dog steps, and you can adjust according to the size of your dog. The size of the dog stairs is 21.5 by 25.5 and 17 inches. It is made of strong materials that can support a dog that is over 100 lbs. It is foldable; hence easy to carry around.
7. PetSafe Solvit Dog Stairs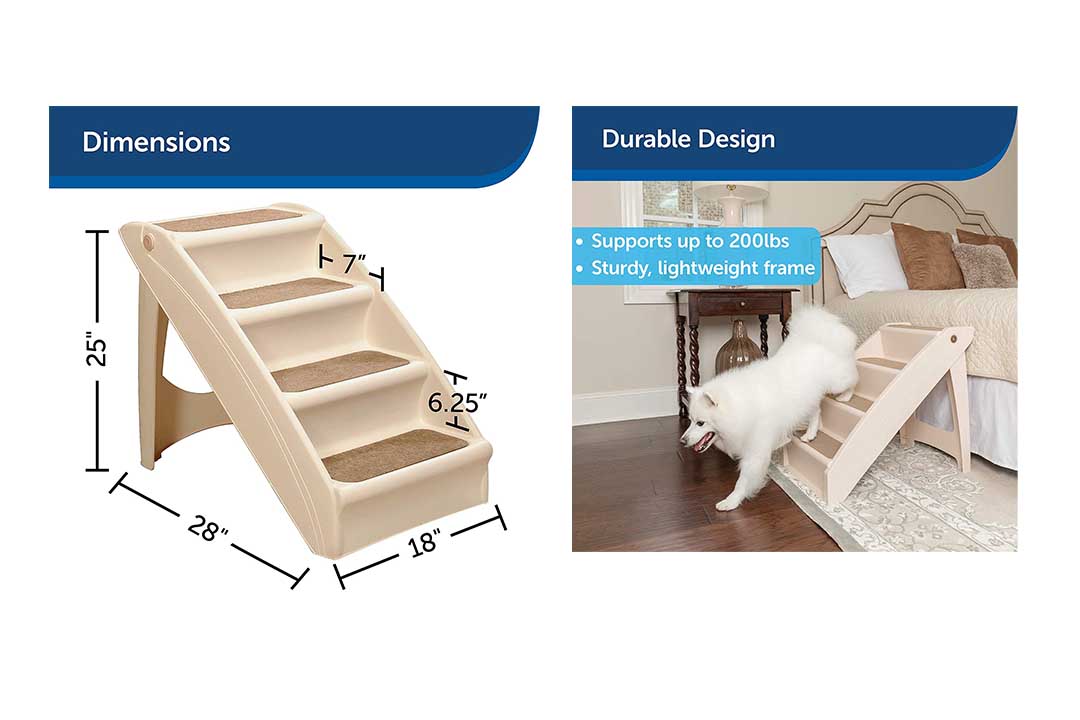 The dimensions of the pet stairs are 28 by 18 by 25 inches. It is lightweight making it ideal for carrying from one place to another. It is made of durable plastic material that is comfortable and strong to support a big dog. The dog stairs are foldable for easy storage and transport.
6. Upgraded Dog Car Steps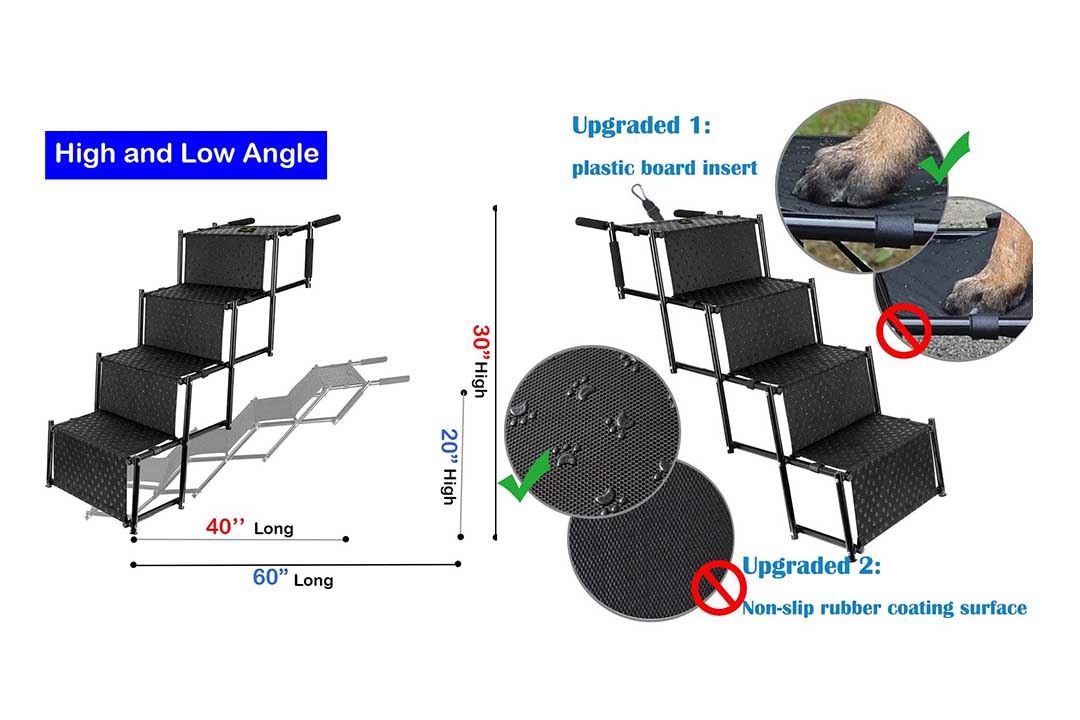 The dog steps come in three or four steps for one to choose. It is made of metal frames that are lightweight and foldable. It can hold a big dog of about 100 lbs. It consists of anti-slip rubber grippers to prevent the dog from falling. The material of this dog stairs is easy to clean and maintain.
5. PETMAKER Folding Plastic Dog Stairs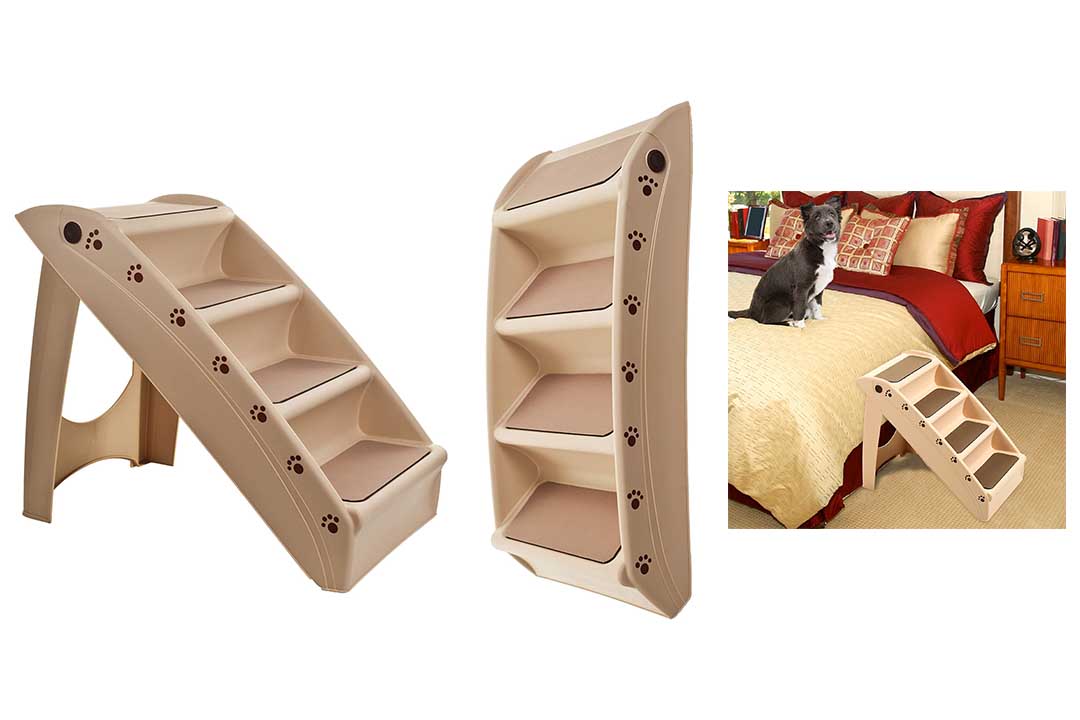 The dog stairs are suitable for both indoors and outdoors. It has four steps to help the dog climb easily. They have side rails to protect your dog from falling and protect your floor from scratches. If you want to travel with your dog, this is the best dog stairs as it is foldable and can fit in the trunk of the car.
4. Zinus Easy Pet Stairs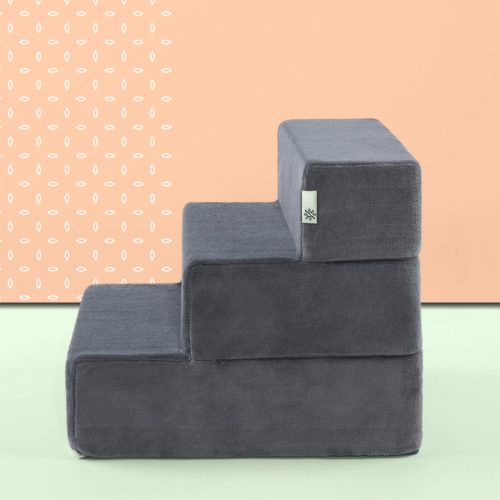 The dog stairs come in different sizes such as small, medium, large and extra large. The size will depend on the size and weight of your dog. It has a comfortable cover that is removable and washable. The dog stairs are easy to assemble, and you do not need a manual.
3. Pet Loader
It is a lightweight dog stairs that you can carry easily from place to place. It can be used in various places to help your dog enter or exit such as cars, vehicles, SUV, beds, and a vet table. Once you purchase these dog stairs, you get a lifetime warranty from the manufacturer.
2. Niubya Dig Stairs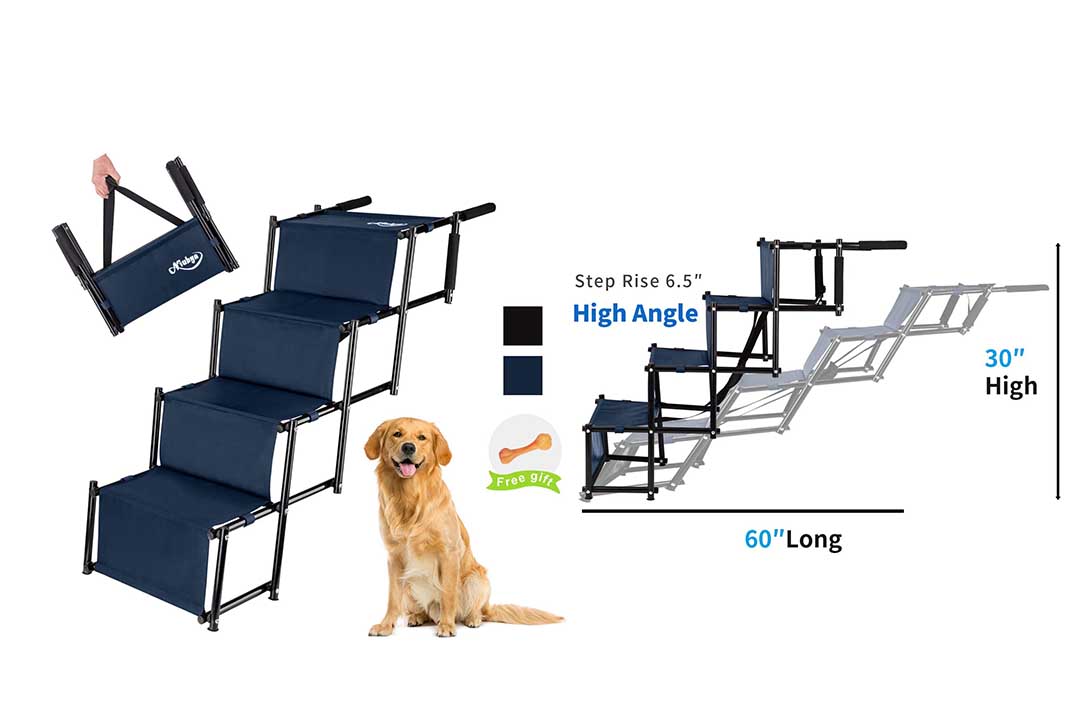 The dog stairs are made of metal frames that are rustproof. It can withstand big dogs weighing over 130 lbs. The fabric of the stairs is well stretched and stable for maximum support for the dog. The manufacturer of this dog stairs offers a two-year warranty and excellent support services for their customers.
1. Pet Gear Dog Stairs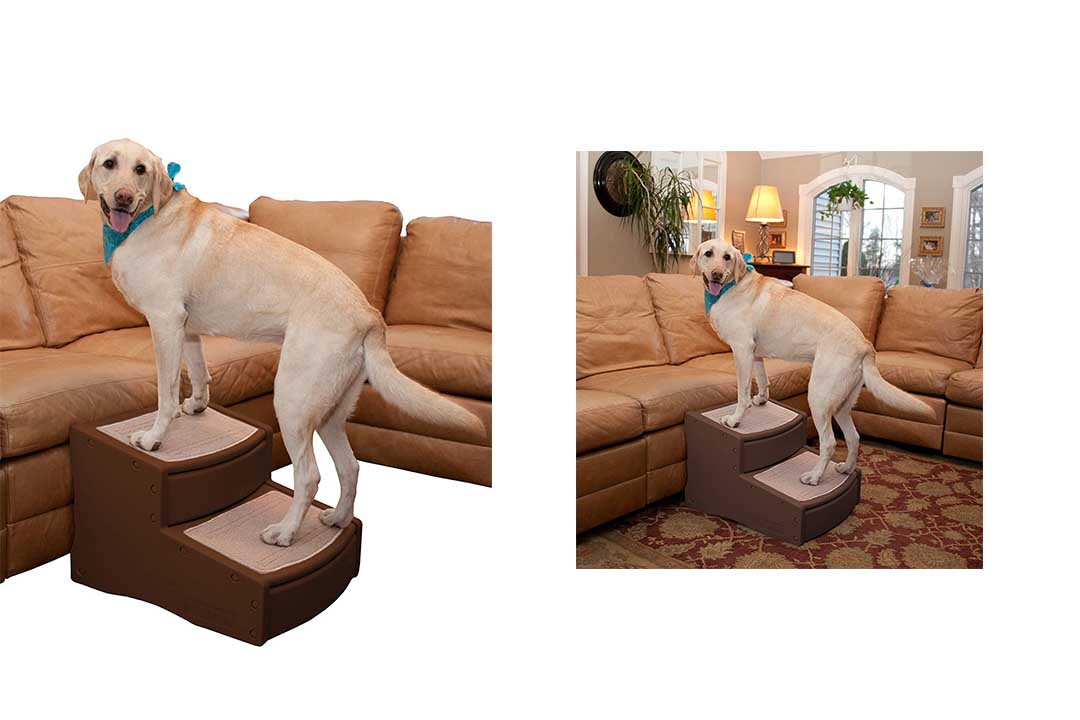 It has a removable and washable cover to keep it clean all the time. It comes in different sizes, and you should select the one that suits your dog size. It is very stable to prevent your dog from slipping and falling.
Conclusion
If you have a dog, you should find the best dig stairs. Dogs can have a difficult time accessing an elevated place without dog stairs. The above dog stairs have been approved and certified to be safe for your dog. Make sure you find one from the above for your favorite pet.
You might also like: 3 Best Ways to Command Your Dog to Get into Your Car
Disclaimer:
Best Pet Pro is a participant in the Amazon Services LLC Associates Program. As an Amazon Associate, we earn from qualifying purchases made through our links. We only review products that we trust and recommend. Visit our detailed disclaimer to learn more.