You take great pains to secure your home and loved ones — but what about the furry or feathered members of your family? Have you ever wanted to check in on the well-being of sick or elderly pets, help calm an anxious pet, and find out if your pet is misbehaving?
With an advanced technology system, it is possible to leave your pet at home without being completely detached from them. Today's technology of pet video monitor has made all this possible. Whether you are leaving for short-time grocery shopping or a-week vacation, it is still possible to know what your pooch is doing at home using this pet surveillance system.
A pet camera is a mini cam that you can position anywhere in your home that allows you to watch what your pet (or anyone else) is doing, remotely, on a mobile device.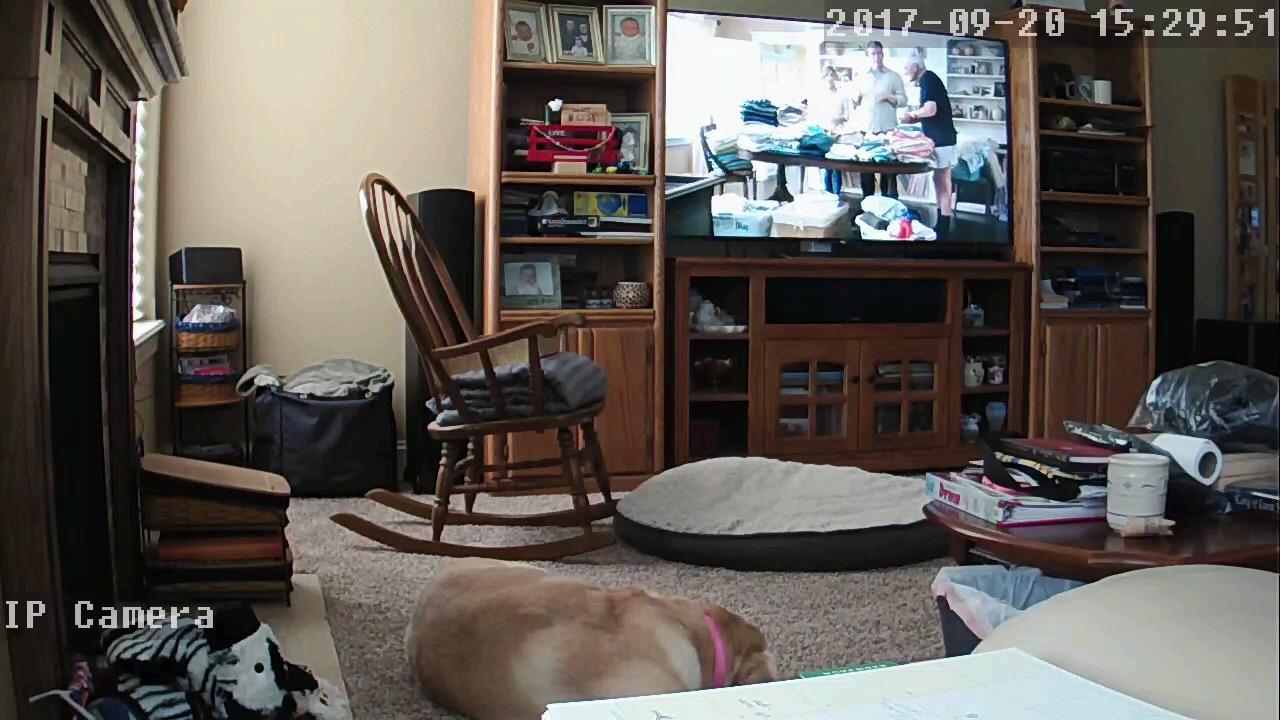 That means that whether you're at work, out running errands, or on vacation, you can check up on your fur baby at any time in real-time, allowing you to keep your pet safe and learn more about his or her needs when you're not there, ensuring that you give the best possible care.
A lot of pet parents decide to install a pet video monitor at home, because not only to be able to see what their left-behind pets are doing but also to still be able to communicate with them. A pet video monitor that is embedded with a two-way audio system lets you communicate with your pet as it lets you talk and listen to your furry friends. This way, you are still able to encourage your pets as well as give them verbal commands or warnings.
The pet camera app should be able to let you watch your pet in real-time, as well as send you regular updates throughout the day, and for dog owners, the best cameras will alert you when your pup starts barking or making sounds of distress.
Since not everyone is high technology literate, it is essential to choose pet video monitors with easy installation. This way, you do not have to pay extra money to hire someone to do the installation process. Hence, wireless pet video monitors are recommended, since they offer an easier and simpler installation without any additional cables or circuits that can be a hassle.
The ability to use the app on multiple phones is also a great feature, as it means that more than one person at a time can keep an eye on your four-legged buddy, making things extra safe.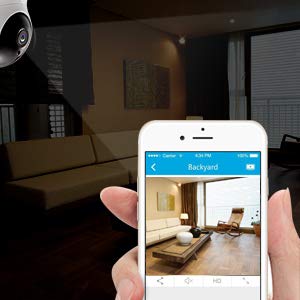 In addition to your needs and preferences, choosing a pet video monitor should also depend on the budget you would like to spend. You also need to consider other expenses that come with the apps and storage if any.
There are a lot of choices of pet video monitoring systems you can choose from the market. However, these following 10 brands serve the tasks well and hence, become the best top pet video monitors you might want to consider choosing. Let's find out exactly what these products are, and whether it's worth buying one for your pooch.
List of the Best Video Monitors with Wifi of 2023:
10. Takihoo WiFi IP Indoor Home Baby Pet Surveillance Camera Monitor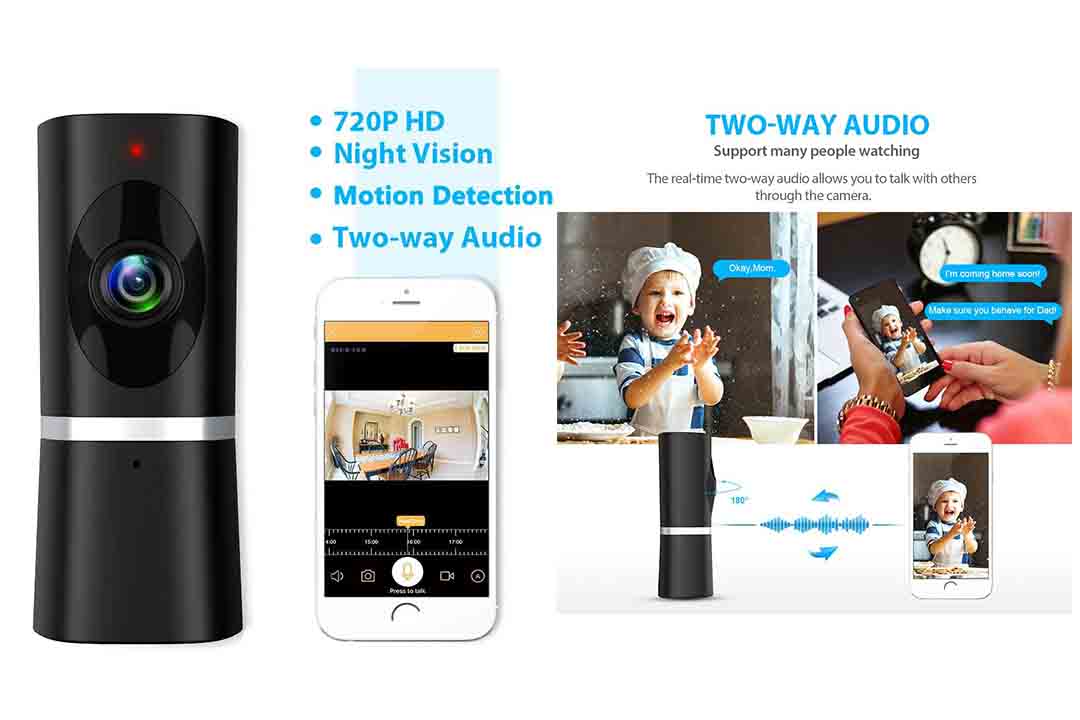 No products found.
This high-resolution camera gives you 720P(1280*720) HD and 180° wide-angle field with high efficient compression technology and excellent HD video processing capability that provides more clear and fluent live video to realize remote home monitoring. The wireless security camera provides complete coverage in crystal-clear images and a complete panoramic view through this video surveillance camera system. The notification is built in a sensitive way when the camera is detected with any motion. An instant alarm message push will be sent to your mobile. You can also adjust its sensitivity in the APP of this indoor home security camera. This HD IP camera provides a clear night vision through the infrared red light. The 32FT night vision range security surveillance camera helps to protect your home from theft, burglaries, and vandalism. Alert pictures will be stored on the Micro SD card (up to 128GB, not included). Surveillance cameras for home also can be shared with families and friends to monitor your home, baby, pet though one mini wifi cam.
Key features:
Remotely Control
Monitor from Multiple Devices
Infrared Night Vision
Two-way Audio Voice Intercom
Support Android, IOS devices remote real-time monitoring
9. PetChatz HD: Two-way Premium Audio/HD Video Camera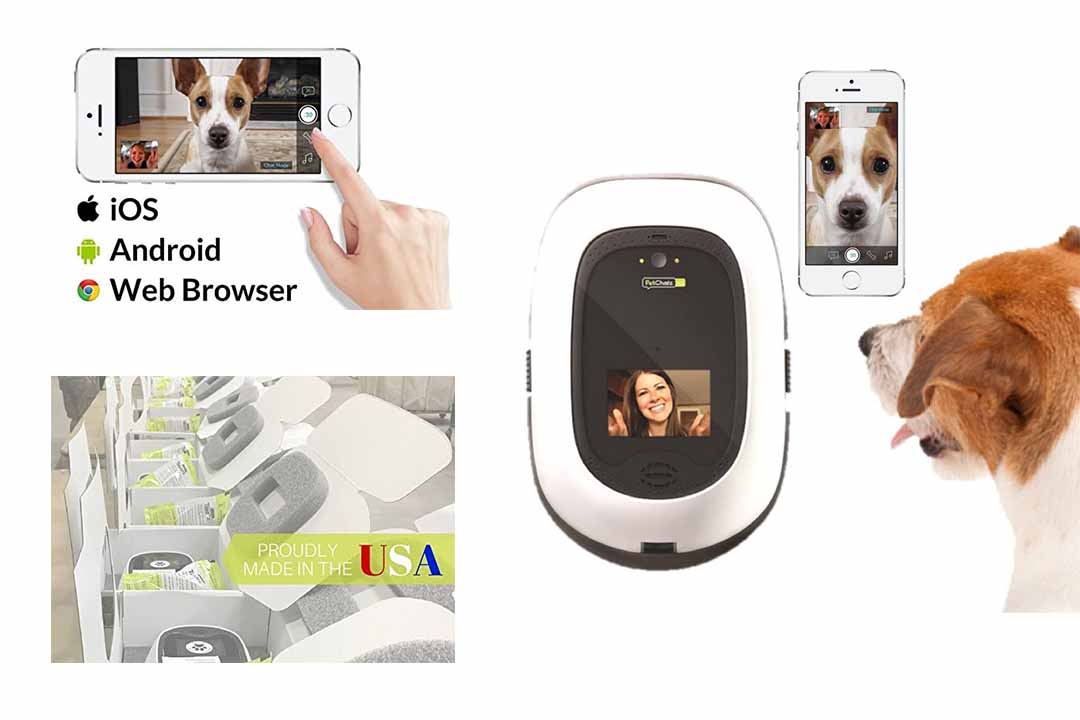 Stay connected with your pup while you're away, thanks to PetChatz HD Two-Way Audio/Video System capabilities. You can make sure your pup sees and hears you with a 2-way camera with a microphone so you can interact with him even while you're gone. This is a wonderful feature for the dog (or owner) who suffers separation anxiety. You can still entertain him from wherever you are, allowing him to be stimulated even while alone. You can also purchase the optional PawCall button, which lets your pet call you. Place the PawCall button on the floor or wall near your system, schedule call times in your PetChatz web app, and a light on the PawCall button lets your pet know you're available for a chat. Your pet can then press the button to initiate a two-way call.
Key features:
Two-way video
Smartphone-connected treat dispenser
If you sense your pets are stressing, dispense calming scents
With the paid subscription, the monitor will stream DOGTV for your pooch
8. Petcube Bites Pet Camera with Treat Dispenser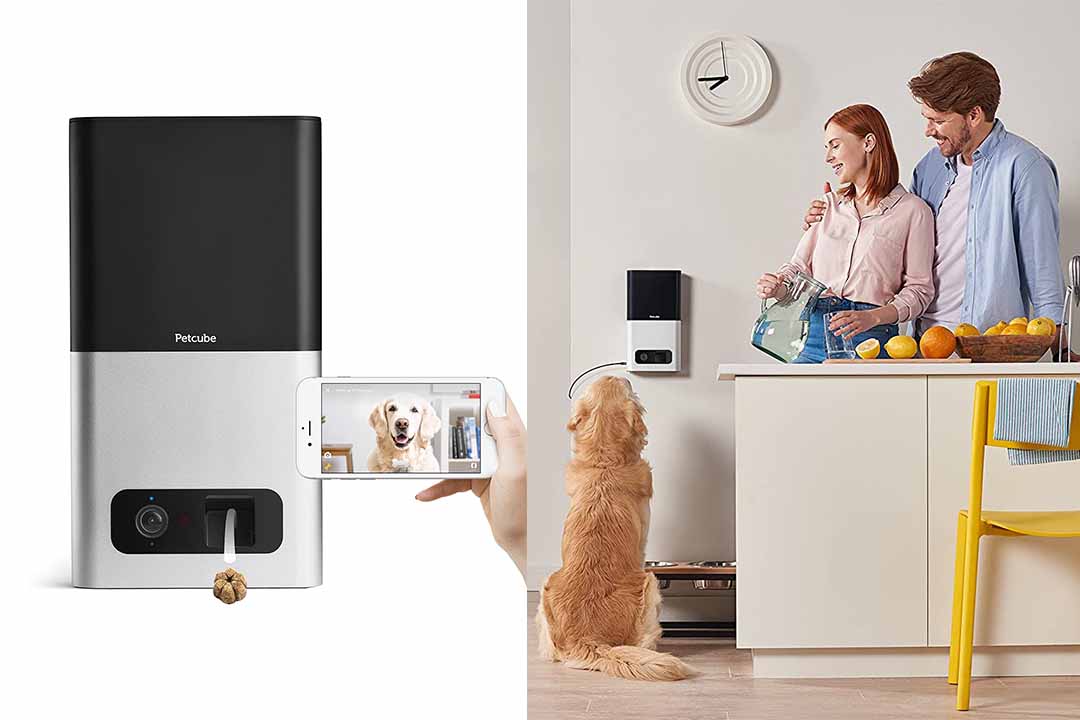 Petcube Bites is an all-in-one Wi-Fi pet camera with a built-in treat dispenser that lets you train and reward your pet remotely. See, talk, treat, and train from your phone. It offers a 138-degree wide-angle HD video camera with recording capabilities, two-way audio, and motion- and sound-detection capabilities. It does not dispense treats, but it does come with a built-in laser pointer toy that can be controlled via the Petcube app. To play with your pet, simply drag your finger across your smartphone screen and watch them chase the laser. Whenever the sound or motion is detected, you will get a notification to your smartphone. Use optional cloud recording service Petcube Care to capture, review, and save videos. Through the Petcube app, available for iOS, Android, and even the Apple Watch, users can also share clips of their pet or grant friends and family access to the Petcube camera stream. Petcube connections are protected with 128-bit encryption and a number of other security protocols. Catch and share the best moments of your pet!
Key features:
1080p HD Video and night vision
Built-in treat dispenser
Two-way audio
Sound and Motion Detection
Cloud Video Recording and Pet Care
7. Pawbo Life Wi-Fi Pet Camera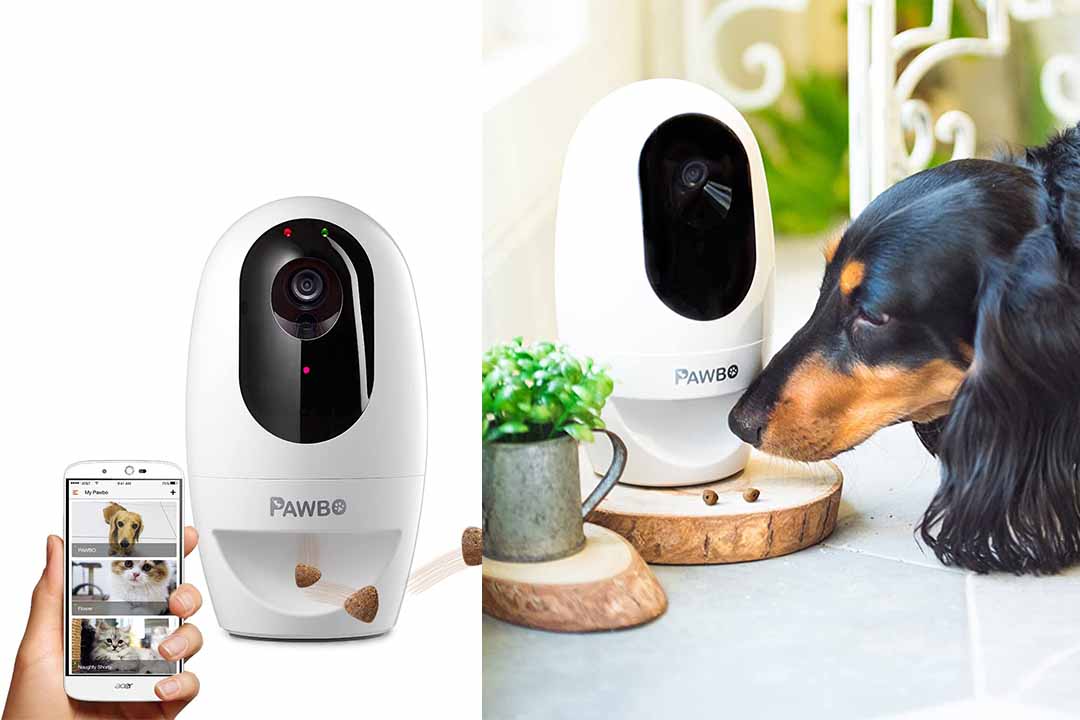 The Pawbo Pet Camera offers an attractive minimalist design, an easy setup process, and an impressive number of features. The device boasts a 110-degree ultra-wide camera lens, 720p HD video recording and photography, and a revolving treat tray. The built-in microphone/speaker/laser/treat dispenser lets you listen, talk and reward your pet's favorite snack or play & interact with your pet anytime, anywhere. Whether you're summoning your pets with a customizable built-in ringtone, rewarding them with a treat, talking to them through the microphone, or giving them some exercise using the laser, Pawbo provides a variety of different ways to interact with your pet.
Key features:
130° wide-angle lens with 720p HD and 4x digital zoom
Two way-talk
Laser game
Treat dispenser
Ringtone notifications
6. Yooan WiFi IP Camera 720P HD Wireless Camera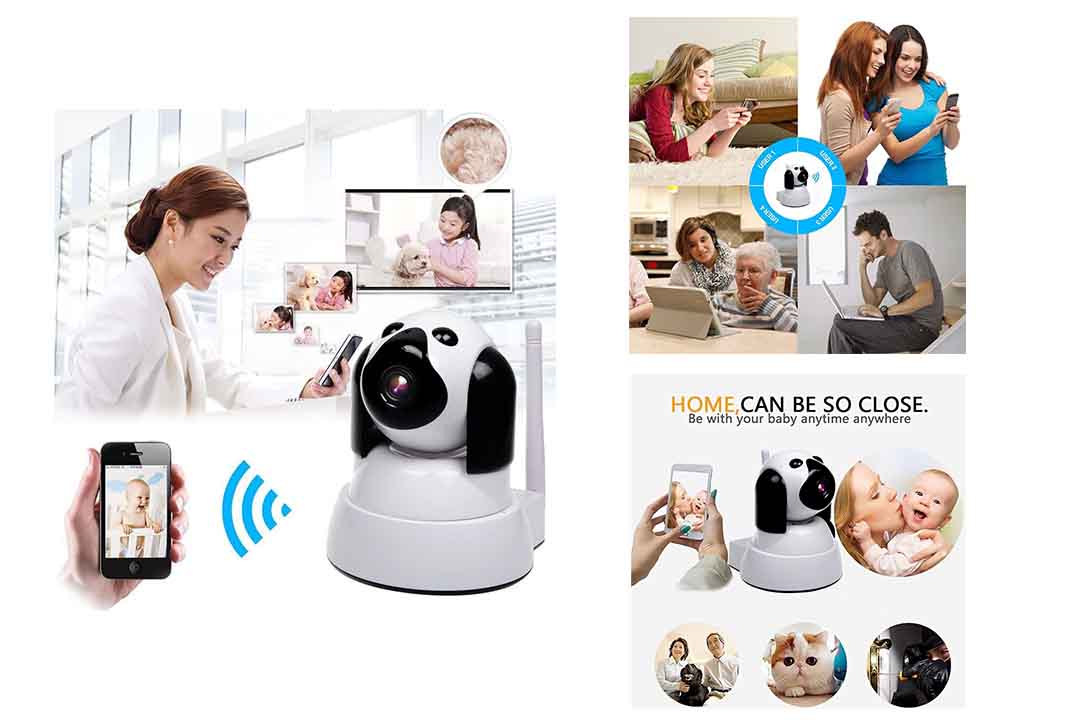 No products found.
Now, with Yooan Security IP Camera. You'll be able to watch each room in your house and keep your family safe. It will present you a face to face visual effect with 4 times digital zoom, HD 720P, and noise-reduction technology. With the built-in powerful IR-LEDs for night vision up to 10-15m, you can see clearly in the night. The remote pan/tilt, 355° horizontal and 120° vertical rotation range make you see all corner clearly. You can talk to your family members, tell your dogs and warn the thief with built-in mic and speaker. It is loud enough they can hear you through the speaker (they will notice it once and then ignore you anyway) and the night vision is decent. This dog monitor camera offers a superior field of view and recording quality. Good enough without being more than is needed, the video doesn't take up all your bandwidth, and yet offers full, remote access (even to zoom, tilt and pan) via your smartphone.
Key features:
Remotely Control Pan and Tilt
Monitor from Multiple Devices
Infrared Night Vision
Intelligent Motion Detection
Two-way Audio
Supports Android, IOS devices and PC remote real-time monitoring
5. Petcube Play Wi-Fi Pet Camera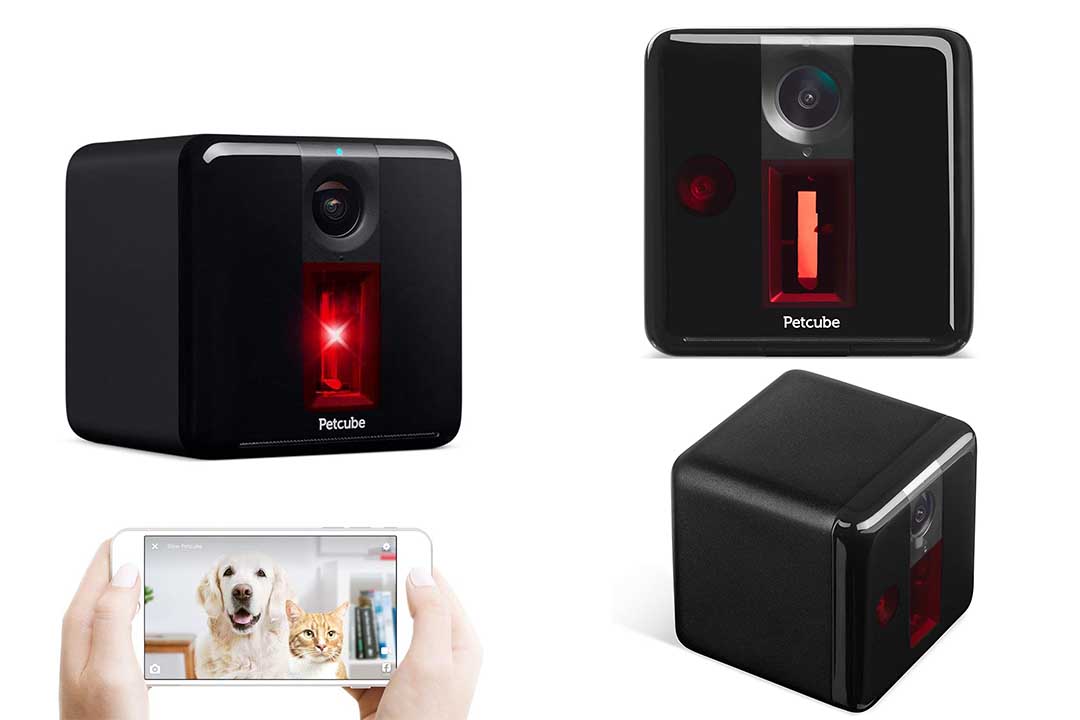 Petcube Play is an indoor home pet camera that lets you check in on your pets from your smartphone. If your pup hates being home alone, relieve some of the stress with Petcube, an interactive dog monitor camera that not only puts a visual on Fido but also lets you talk and play with him, via a camera, microphone and toy laser you control with your smartphone. With the built-in laser toy, play and exercise your pet anytime. If you're too busy, use autoplay mode to keep your furry one entertained. Use the sound and motion notification feature to alert you of major events happening at home. It's the perfect pet monitor. Know that your four-legged friends are safe and out of trouble. You will always know what your pet is up to when you are not home. Best-in-class in terms of design, durability, and smarts.
Key features:
A wide-angle, HD lens
Two-way audio lets your pets hear your voice (and you to hear theirs)
Built-in laser toy gets your pets playing
iOS and Android compatible
4. TOOGE Pet Camera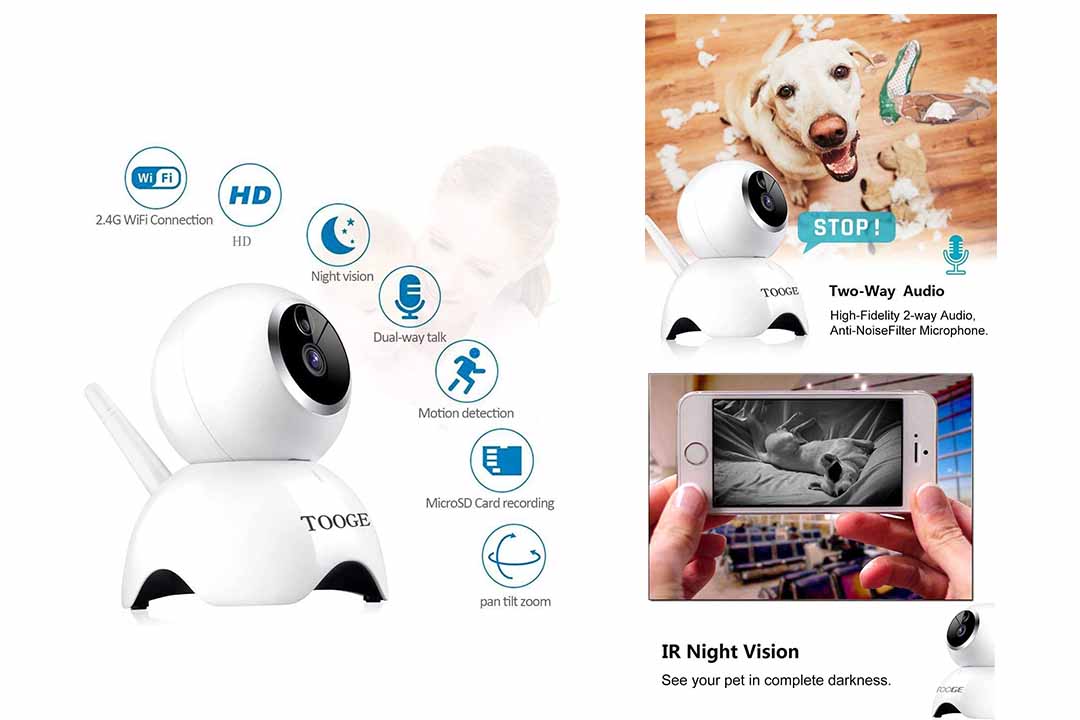 No products found.
The cute design of the Tooge pet camera even looks a little like a pet with four paws and a tail. The spherical camera mount allows for 350-degree horizontal vision, and an 80-degree vertical vision, giving you a great view of your pet wherever he is in the room. With IR-CUT Auto Switch Filter, the wifi camera will auto switch to night vision when it's dark. Night visibility 10m+, you can see the video as clear as daytime. The built-in ultra-responsive microphone allows you to have smooth stable conversations through the App, wherever you are. The Tooge pet camera is also compatible with IOS, Android, and Windows devices, and video clips and images are stored locally on a removable SD card for additional data security. TOOGE Dog Camera always keeps an eye on things that are important to you. The camera will send notifications to your smartphone alerting when, where, and what movement was detected.
Key features:
Great for home security as well as keeping an eye on your pet
Night vision camera activates automatically
Excellent field of vision
Cute design
Enhanced Wi-Fi performance
Fantastic image and audio quality
3. Furbo Dog Camera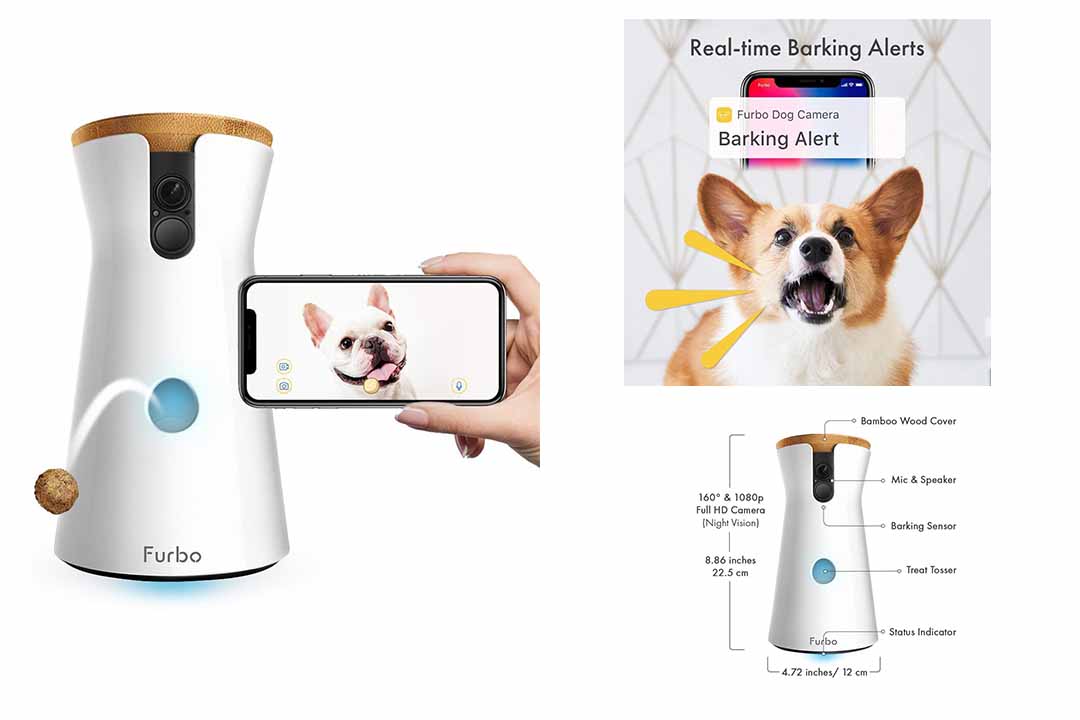 With input from over 5,000 vets, professional dog trainers and dog parents, Furbo Dog Camera's features are designed specifically for dogs. See and interact with your dog from anywhere and anytime. This freestanding pet camera has a stylish neutral design, and it even doubles up as a pet treat dispenser with so you can reward your dog when he's been good. A swipe on the screen of the app will toss a treat out across the room for your pooch to chase, and can also play a recording of your voice as the treat is dispensed. Furbo comes with a free pack of training treats or fills it up with over 100 pieces of your dog's favorite treats. Round shaped treats with a diameter of around 0.4 inches work best. This pet camera is compatible with both iOS and Android devices, as well as Amazon Alexa.
Key features:
Great quality video
Bark alert feature
Fun and reliable treat dispenser
Well made, robust design
2. Wansview Wireless IP HD Camera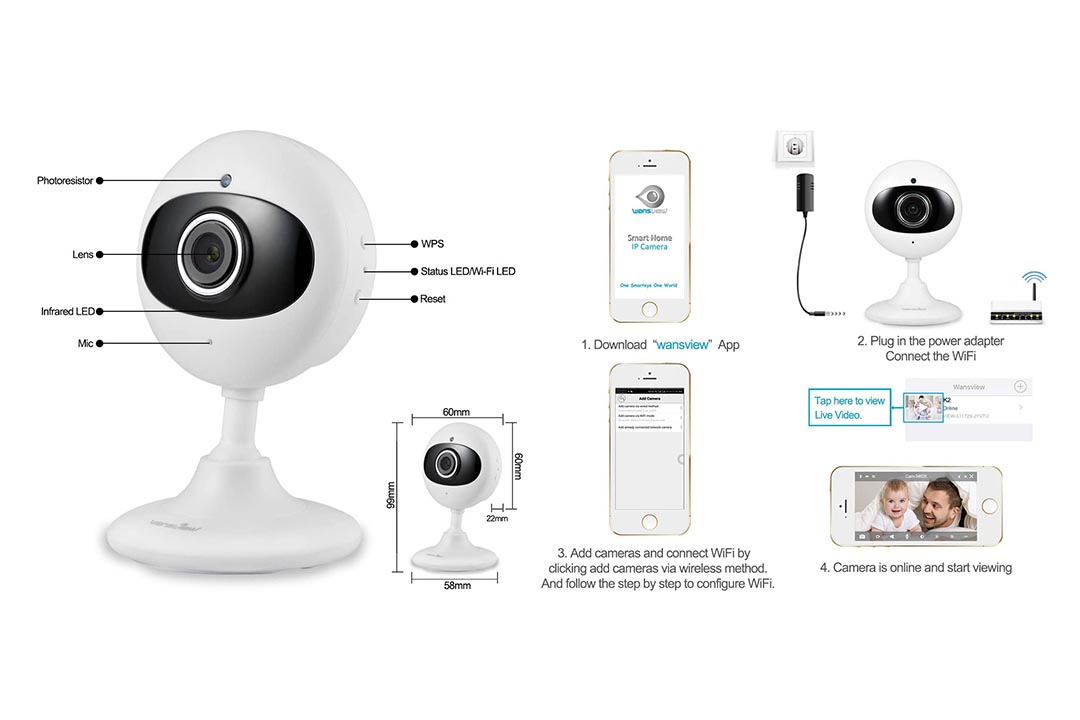 This is a delicate wifi camera to monitor your baby, elder, pet, nanny, and employees. With a 720P high definition video, H264 image compression and 1/4"CMOS sensor. The instant living stream can be seen using your phone, tablet or computer from anywhere and anytime. You may install the camera on your desktop, wall or ceiling. After configuration with wifi, the crystal image with night vision function which is ideal for monitoring kids or pets in your home. The video can be saved to your phone, PC. The 720 dpi version of the camera can run and live stream videos on your PC and smartphone for six days. Users can also customize its brightness and saturation accordingly to what they want. If one needs to be notified of anything happening in the house, the device can send photos or videos through email. What's more, it can sense four motion activities. Once the cameras are connected with your home WiFi, you can monitor it on your Wansview app when your mobile phone is connected with any available WiFi or cellular data when away from home.
Key features:
Reliable 2.4G WiFi Camera
Wider Vision and Multi-view
Excellent Day/Night Vision and Crystal Two Way Audio
1. TENVIS HD IP Camera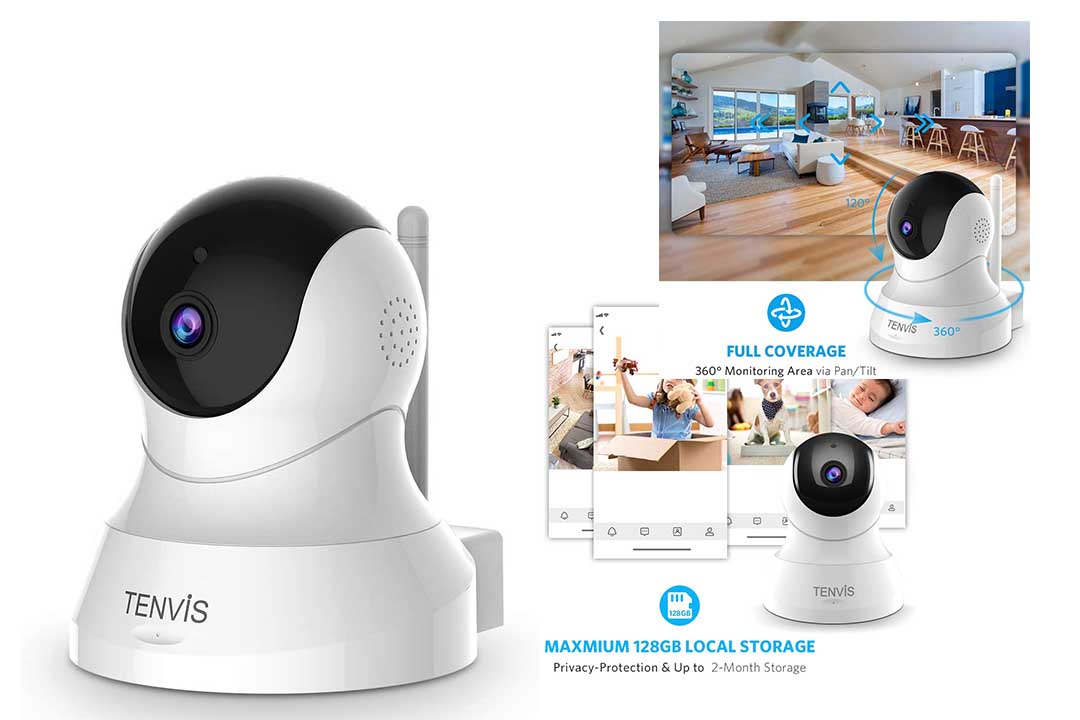 The TENVIS HD IP Camera comes from a company that has gained expertise in manufacturing electronics such as video surveillance products and IP cameras. TENVIS was founded in 2005 and since its inception, the company has grown tremendously. Don't let criminal activity or dangerous situations take control of your life! This security camera possesses reliable and top-quality real-time images to avoid mistakes in alarm notification. This night vision camera features excellent night vision with high resolution, which helps you monitor baby, monitor cat, monitor the elderly or what you want for 24Hr/7Day. Even at night, the monitoring range can reach 50 feet. The camera comes with an official app that is called iMega Cam. It can be downloaded for free on both iOS and Android platforms. You just need to go to the App Store or Google Play to download the app. We love the fact that multiple cameras can be added to the app in order to monitor different locations inside the house. Furthermore, the rotatable pan and tilt of this camera offer 340-degree horizontal coverage and 105-degree vertical coverage.
Key features:
Measures 4.1 x 4.1 x 5.1 inches
Weighs 8.8 ounces
Night vision capability
1280 × 720 Megapixels
Smart alarm for notification
Two-way audio camera
Stable connection with wi-fi
Final Thoughts
Have you found your favorite cam on the list yet? If you are not sure, feel free to go through each item again. But remember you are only one click away from owning the best monitor for your favorite pet.
Disclaimer:
Best Pet Pro is a participant in the Amazon Services LLC Associates Program. As an Amazon Associate, we earn from qualifying purchases made through our links. We only review products that we trust and recommend. Visit our detailed disclaimer to learn more.